This year, we've been connecting with communities all across the country again thanks to our National Lottery-funded project. Participants collaborated with each other and worked with professional choreographers, writers and directors. Starting from the themes of our live show, Delicate, they've created performance in their own voice and with their own stories. Unexpected Leaders have also been leading on building connections between venues, audiences and our company. By holding conversations with people where we tour, they're helping us find out how our work is landing and build audience for our next show and for the Future of Circus.
We're co-creating inclusive performance with communities
In Plymouth, we continued our work with Theatre Royal Plymouth's Our Space and Funky Llama groups. They received mentoring from professional dance company Far Flung, and developed skills in performance and filming to make an original short film.
In Poole, Extraordinary Bodies Young Artists came together with CoCreate Theatre company to make Broken & Golden, a performance exploring the ideas of delicacy and strength. They devised a piece over seven weeks, working with song, circus, dance and spoken word. They performed at flagship Dorset venue, Lighthouse Poole, just a few hours before Delicate took to the stage.
In Sunderland, Twisting Ducks met the Delicate cast and enjoyed a theatre workshop on the themes of the show. And in Manchester, Unexpected Leaders came together to see Delicate at The Lowry, Salford Quays, and share a circus workshop at Skylight Circus. Poole-based leaders Jess and Kira both brought back a circus trick to teach, which then made it into Broken & Golden.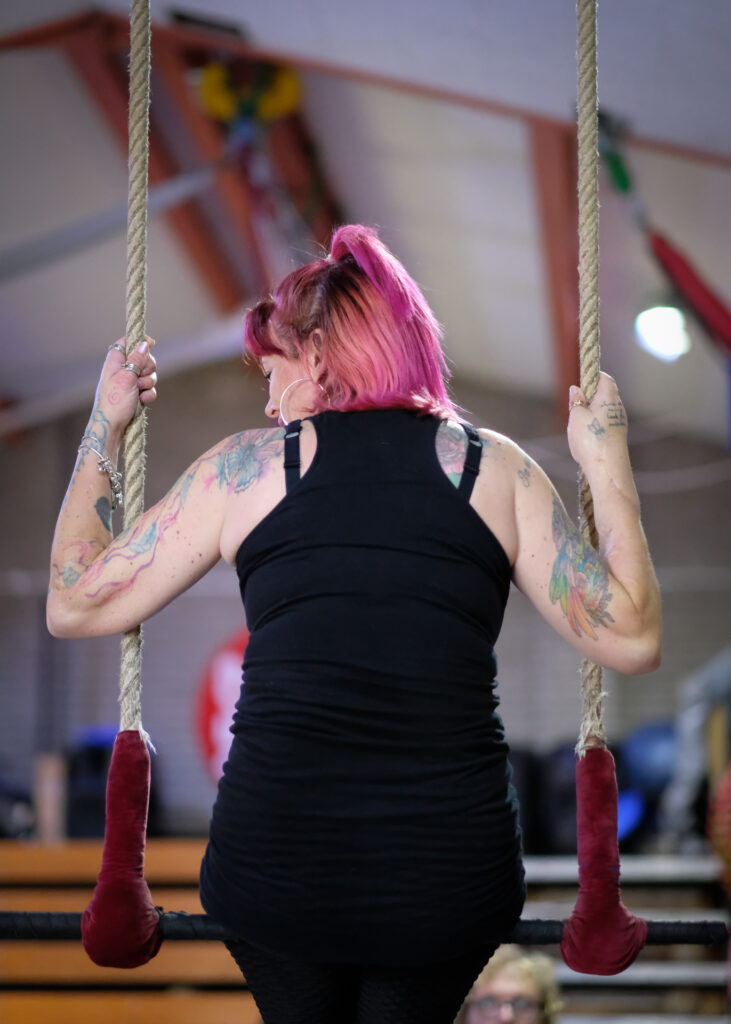 Step by step, place by place, we're nurturing connections between Unexpected Leaders, venues, audiences, and professional and emerging artists to reshape circus. We're creating a more inclusive and relevant industry shaped by people's real-life stories and diverse talents.
We're tracking the impact Extraordinary Bodies has on people's lives
Connecting Communities is all about local Unexpected Leaders connecting with audiences across the country. They have gathered audio and video feedback of Delicate audiences at several venues. Check out the video of Unexpected Leader Ferri Feredouni interviewing Charlotte to find out more about Delicate below.
The impact of our national touring is also coming through the written comments on the show. Here's a few snippets:
"As a person with a hidden disability, Delicate was so inspiring"
"The show made me want to engage with diverse performers and thinkers much more often on stage"
"This show helped me understand the issues my partner has faced since needing a wheelchair"
"Delicate made me want to celebrate my own disability"
Join us to be a part of the Future of Circus
We believe the Future of Circus is rooted in diversity and inclusion, and we've inviting you to be a part of it.
If you're a performance-maker, ask local communities what matters to them. Involve them in creating your work. Involve them in evaluating your work. If you're a venue, create long-term connections between you and the diverse groups that shape your area. Find Unexpected Leaders around you, ask them questions and be open to learning. If you're a member of the public and you share our vision for a better future, come to our shows!
If you can, please consider donating to support our work. Making change happen is hard. It takes strength. And there's no doubt that we're stronger together.
Charitable giving to Extraordinary Bodies is administered by Diverse City Ltd Charity number 1176855

A massive thank you to the National Lottery for funding Connecting Communities, and to Paul Hamlyn Foundation and Arts Council England for funding our touring project. None of this would be possible without their ongoing support.
Photos by Erin Hopkins